It's hard to believe that we're almost finished with our third term for the school year (and half-way through!). I'm looking forward to our week off though (and my house is sorely in need of a little more attention so I know what I'll be doing that week!).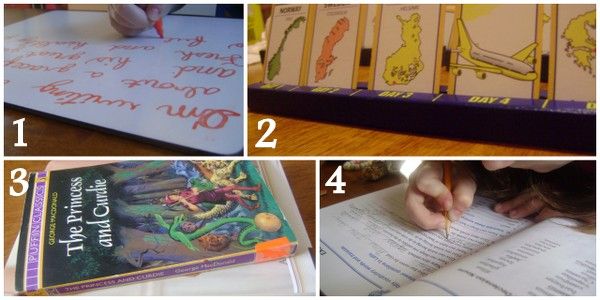 Practicing cursive while doing dictation exercises.
Who says you need a workbook for geography? We love the 10 Days in Europe (and the Americas) games. We'll be adding Africa to our collection this year as well.
Books we've been reading… The Princess & the Goblin (free on Kindle!). We're reading the sequel to Half Magic next – Magic by the Lake. TJ is almost finished with The Long Winter. She also read Meet Addy and a book about the Civil War as well as a few pages from The New Way Things Work. We're also finishing up the last few chapters of The Horse & His Boy today before we start Prince Caspian next week.
Latin… I will learn the 2nd declension… I will…. I will…
Neat finds on the web…
Finding Your Child's Reading "On" Button from Raising Arrows (Great suggestions for getting your kids into books.)
12 Reasons to Homeschool from An Ordinary Mom (Love!)
When Homeschooling Sucks from Teaching Stars (What is it about February that makes us want to throw in the towel?)
Classical Science for the Logic Stage from Elemental Science (I'm looking ahead… 5th grade is coming!)
Hundred Chart Learning Ideas from Teach Beside Me (Who doesn't love some fun new math ideas?)
In our pile of books… I finished Bleak House (free on Kindle!) and Seize the Day this week so I'll start on some new books this weekend. I'm almost done with One Thousand Gifts (review coming Monday!). Still waiting for my copy of One Hundred Years of Solitude to get here from the library.
I stayed up late last night to finish the second book in the Incorrigible Children of Ashton Place series. Highly recommended (it's a juvenile fiction novel so if you have middle school girls this is a good series for them too)! TJ asked me to read aloud the first book to her so that's on our to do list. I'm hoping I can just read the first few chapters and then hand it over so she can read it herself.
What's happening at The Sunny Patch… This week's been pretty busy! I reviewed Dr. Wile's newest science book, geared to students in K-6 – Science in the Beginning.  And here's a list of our very favorite read alouds for grades 1-3.
I also reviewed Classical Academic Press' newest book, The Liberal Arts Tradition. I'm also hosting a giveaway for one copy of the book so click over and enter!