Hey! I'm Tonia – raised in the States but now happily residing with my husband, daughter, beagle, and in-laws in Quebec!
I started blogging at The Sunny Patch, my homeschooling journal, in 2007 when TJ (my daughter) was just 3 years-old. I found a copy of The Well-Trained Mind at our local library and haven't looked back since!
My husband, Nick, is Canadian, born and raised, and takes his mini-golf waaayyy too seriously.
I'm not kidding. It embarrasses me when we have to play with anyone else because he is nuts. And competitive. But besides that one terrible fault he is a wonderful guy, great dad, and loving husband. He really is awesome and I'm so blessed that he's mine!
Who doesn't love to do school at Tim Hortons?
And TJ, who just turned 11 is a princessy tomboy if that is possible.
She's always been very sensitive to her environment – loud noises, weird textured food, scratchy clothes, so we try to ease her into any new changes. The sensitivities are lessening as she gets older. She's your "typical" kid – nothing green shall pass her lips unless under extreme duress or threats of no dessert. Which is weird because she would eat anything when she was a toddler. Maybe it's the age – trying to assert her own authority… Who knows. On the other hand, whenever we make a foray into Costco she's always hoping they will be serving free samples of duck pate or cretons. Gags at the thought of eating a measly piece of lettuce but can't wait to eat duck pate?!? Who is this kid?!?
When asked about her favorite subjects she will say, "recess." She is a whiz at math and loves science. She tolerates reading and is just starting to not complain too loudly about her quiet reading time. She loves, loves, loves read aloud time. I could read until I lost my voice and she'd still ask for just one more chapter. Thank goodness our library has a great selection of audio books!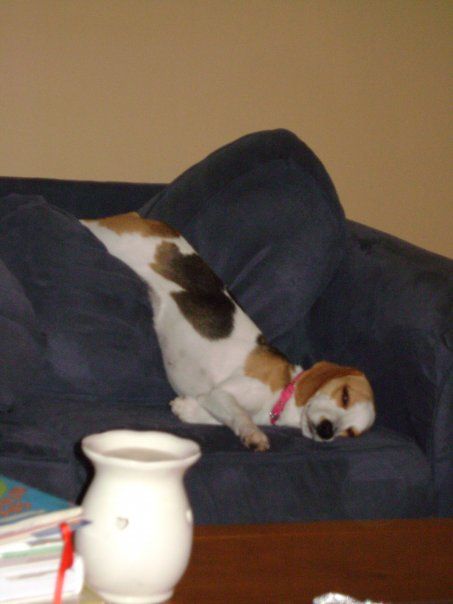 And then there is Grace, our spastic beagle…
who barks at everything that goes by, especially if it is on wheels. Strollers are the worst for some reason. I have no idea why. Perhaps we haven't socialized her enough. Stroller socialization… the newest trend among dog owners. She also thinks that she should sleep on the back of the couch. Which never works out well.
We are a homeschooling family.
Yes, we're that family. Minus the denim jumper.
I don't own a denim jumper and I don't have long hair or wear it in a bun. My hair is short – see me over there up on the left? Yep, short hair and no denim jumpers. Plenty of dangly earrings though! I enjoy cooking, even in my tiny kitchen. I enjoy homeschooling my daughter. I read like a madwoman – piles of books dominate the house. (I've even considered trying to fit a bookshelf in the bathroom. This house is small!)
So that is my family. While you're visiting here you'll read about our homeschooling journey, books for kids (and adults), easy meal ideas, fun family ideas & activities, travel adventures, healthy living, and essential oils.
I've been featured!
You can also find me writing for a few friends on occasion:
Welcome to our world!
For bloggers & companies:
I offer a variety of management, consulting & blog services.
For brands & PR:
If you're interested in having your product or book featured on my blog or you'd like to become a sponsor or advertiser, you can find more information about that on my PR page.
Stay in touch!
Stay in touch with The Sunny Patch by signing up for our newsletter. All the best information sent right to your inbox!
You'll also receive a FREE 5-day Unit Study!