Not much time for reading…
August has been a busy month with travel, family vacations, and getting ready for another school year so my reading schedule has been very light. I'm taking some time off from much "serious" reading since I just didn't have the time to devote to it this month. So I haven't started the next book list in The Well-Educated Mind (will be starting in September!).
I have been sporadically reading Middlemarch (on my Classics Club list). It's been a slow slog through it though. While I can appreciate Eliot's attention to detail I'm bored with the book. I'm a little more than halfway through and my plan was to be finished by next week. We'll see. I'll be happy to be finished with this one.
Books in the finished pile…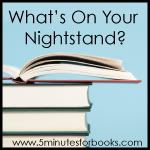 The Man Who Loved Jane Austen by Sally Smith O'Rourke. Interesting story line, okay book. There is a sequel but I'm not that into the characters so I probably won't bother.
Attachments by Rainbow Rowell (caution: some swearing). This was a fun read and a cute story idea. Dude is hired to watch and flag inappropriate use of company internet/email resources. Predictably he ends up falling for someone he is 'spying' on. Likeable characters, fun read.
The Sins of the Wolf by Anne Perry – another great book in the Inspector Monk series. This time one of the main characters is accused of murder and Monk must clear her name. Good addition to the series.
Sprinkle with Murder by Jenn McKinlay – a fun summer read. I like McKinlay's writing style – it's fun and light – just what I like to read before bed.
Definitely Not Mr. Darcy by Karen Doornebos – meh. I really should stop reading these Austen-fan novels. There are so few that I actually really like and many that are just disappointing.
What good books have you read this month?
I'm linking up at 5 Minutes for Books.