I have a confession to make. My homeschooled-since-birth kid does not have the 'reading bug' (you know, that bug that ALL those other homeschool kids have caught!). She doesn't complain (too much) when I assign books for her to read or we have our daily quiet time reading. But, in her own spare time, she does not willingly choose books.
There, I feel better now that I've confessed… I'm not the only one with a kid who doesn't grab a book at every opportunity, right?
So, what's a homeschool mom to do when her kid doesn't love reading? Provide every opportunity to choose books. Assigned, if necessary!
Here's how it looks in our home.
Assigned Reading
Depending on our weekly focus (history, science, or interest-led) we have an assigned reading period. TJ gets to choose what she would like to read from our book basket filled with books on whatever topic we are studying (nonfiction and literature).
I also assign some specific books or reading assignments, depending on what we are studying. On science weeks she has a science text and a health book that she reads from. During history weeks, she can choose the topics she wants to write about and looks them up in the encyclopedia or other books we have on our shelves.
We also have our "Good Books" study time. During our science and interest-led weeks we have a 30-minute period each day where we choose good books, read them (both of us reading silently) and discuss. Last year we read through a few of the Narnia books and this year we'll finish the last few and choose some other good books.
"For Fun" Reading
Every day we finish our school time with a 30-minute tea time. We get a snack, have a cup of hot cocoa or tea and read a book. We have one shelf that is filled with all kinds of good literature that TJ is free to choose from.
One thing that I've just discovered is that my daughter actually likes nonfiction. I'm a fiction buff so I honestly didn't see it coming. So, instead of just assigning literature, I keep a lot of nonfiction books in our book basket and she can choose to read those.
So, if there is a certain topic that your child finds fascinating, stock up on those books! You might just spark a new fire for reading.
Rules for Reading
We do have a few rules for book selections.
No 'twaddle' during school reading time (no comic books, Cul-de-Sac Kids or other fluff choices). TJ is free to read these during her own time or at bedtime.
The 3-chapter rule – every book deserves a 3-chapter try. I don't want TJ to get into the habit of barely starting a book, declaring it boring, and moving on to something more interesting. So she must read at least 3 chapters of a given book before declaring it unreadable.
If a book is especially important to me or I feel it deserves particular attention it becomes a read aloud or literature selection. If there is a book that I don't feel should be missed, I read it aloud or we add it to our "Good Books" study list.
Have some tips for non-bookish kids? Share them below!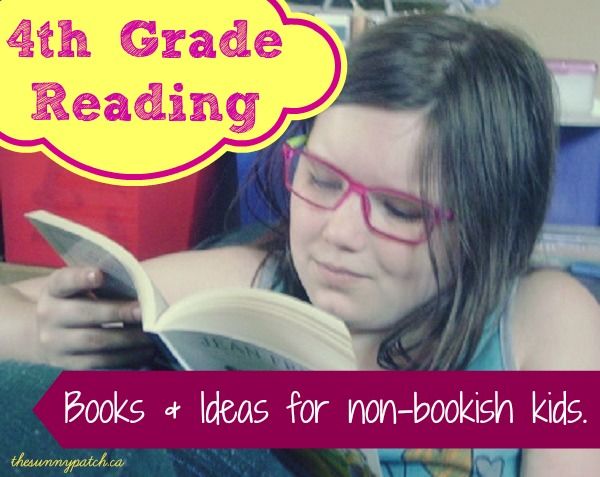 A 4th grade reading list for a 'non-bookish' kid
TJ will be starting her 5th grade homeschool year in September so we're organizing books and supplies and I'm going through notes and lists from 4th grade. I love to look back at each year and see the growth and change – it certainly makes the day-to-day effort worthwhile!
During the school year I like to keep a log of the books we've read. I love to read and have piles of books all over the place and just assumed that she would be the same. But TJ's not a big reader – she would much rather draw or listen to music than read a book. Thankfully she loves read alouds and audiobooks so I can still get her filled up on good literature!
So, for my non-bookish 4th grader I try to be intentional about what I "make" her read. Here's her 4th grade reading list:
Daily 30 minute reading time – her choice of books from a selected book basket, listed below (I filled it with good books and let her make her own choices).
Beginning literature analysis/discussion with The Chronicles of Narnia – once or twice a week (this replaced the 30 minute reading time listed above) we would read and discuss a book in the Narnia series.
Daily history reading – I kept a basket filled with history or geography books (listed below). TJ chose a book and, depending on the length, would read it in one sitting or spread out over the week.
Daily science reading – She read a 2-page spread from The New Way Things Work as part of her study of physics.
Daily Bible reading – TJ read a story each day from The Children's Bible in 365 Stories.
Free reading time – bedtime reading, books of her own choosing (listed below).
All of these readings were spread throughout the day and none took more than 30 minutes (often much less). It worked well for us (without too many complaints!) so we'll be basically following the same format for 5th grade.
Literature:
The Chronicles of Narnia, series
Ballet Shoes
Beezus and Ramona, series
Little House on the Prairie, series
Sarah, Plain & Tall
Rebecca of Sunnybrook Farm
The Cabin Faced West
Charlotte's Web
Ginger Pye
History & Geography:
Introducing Vivaldi
American Girl historical characters, series
Meet George Washington
Country Explorers: Russia
Landmark Books: The American Revolution
Haiti: Checkerboard Geography
Spotlight on Peru
Country Explorers: Mexico
Lewis & Clark
If You Lived at the Time of the American Revolution
If You were there when They Signed the Constitution
Queen Victoria's Diamond
Edgar Degas, Venezia
Paul Revere, Childhood of Famous Americans
If You Lived at the Time of the Civil War
Handel's World
A Wizard from the Start
True Book: Brazil
Country Explorers: Ireland
Marie in Fourth Position
Thomas Edison: The Great Inventor
Country Explorers: Egypt
Value Tales, series
Where Poppies Grow
Pierre Auguste Renoir, Venezia
Beethoven, Venezia
Beethoven: World of Composers
Country Explorers: South Africa
Beethoven Lives Upstairs
Nelson Mandela, Long Walk to Freedom
If You Lived at the Time of Martin Luther King
Free Reading Time:
Magic Treehouse, series
Imagination Station, series
How to Train Your Dragon, series
Calvin & Hobbes
Assorted comic books
Summer Reading (between 3rd-4th grades)

School may be finished for the summer but TJ still has a few "schoolish" things on her list. One of those things is reading! (For the curious, she also does a bit of math to keep things fresh and we practice our French.)
During the school year she had an assigned 30-minutes of reading time every day. Now that we are finished with schoolwork I've bumped it up to 45-minutes a day and hope to get to 1 hour a day by the end of fourth grade.
I don't necessarily assign specific books but we keep a "book basket" by the couch and TJ is free to choose books from that basket during reading time. Reading isn't her favorite pastime but she doesn't complain (too much!) when she gets choices about what she can read. With that in mind, I pulled books off the shelf and, with her help, we narrowed it down to the following:
The Imagination Station: Secret of the Prince's Tomb
Stuart Little
Sarah, Plain and Tall
The Adventures of Pinocchio
Mr. Popper's Penguins
Charlotte's Web
The Cabin Faced West
Babe: The Sheep-Pig
Rebecca of Sunnybrook Farm
The Long Winter
Little Town on the Prairie
Ballet Shoes
Now, I don't know how many of these she'll actually finish this summer but I'm not too concerned about the number she finishes. Right now my main goal is to foster a love of reading. To encourage that love of reading, we also listen to a fair amount of audio books. It's a great way to create a language-rich environment (and keep the tv off!). We recently finished listening to Charlie and the Chocolate Factory and have a few more audio cds in our summer pile – right now that's Mr. Revere and I and The Neverending Story.
Third Grade Reading List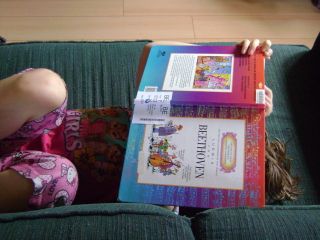 We are winding down another school year – I'm filing papers in a year-end binder, organizing books for the new school year, and all the other miscellaneous tasks that go along with the piles and mess on my dining room table!
One of my most used files has my yearly goals, school schedule, record of vacation days, and TJ's current reading list. I make note of every book she reads after she finishes and she gives it a thumbs-up or a thumbs-down and tells me a bit about the book. The list includes all her reading – daily quiet reading time, assigned history books, free reading.
Here's what she read this school year –
Literature:
The Borrowers
Meet Kit
Imagination Station: Problems in Plymouth
The Littles
Betsy-Tacy
The Borrowers Afield
The Boxcar Children
Surprise Island
Homer Price
The Sword in the Tree
Little House in the Big Woods
Little House on the Prairie
Farmer Boy
On the Banks of Plum Creek
By the Shores of Silver Lake
Emily's Runaway Imagination
Betsy-Tacy and Tib
The Minstrel in the Tower
History/Science/Artists & Composers:
Pocahontas and the Strangers
Squanto, Friend of the Pilgrims
Galileo's Telescope
See inside a Galleon
Welcome to the Globe
You Wouldn't Want to Explore with Sir Francis Drake
You Wouldn't Want to be Mary, Queen of Scots
How to be a Pirate
Katje the Windmill Cat
The Boy who Held Back the Sea
If you Sailed on the Mayflower
Let's Go Rock Collecting
Rocks
What is the World Made of?
Monet, Venezia
da Vinci, Venezia
Rembrandt, Venezia
Ben and Me
Beethoven, Venezia
Butterflies, Seymour Simon
Canada's Woodland Animals
Leonardo's Horse
Canada's Wetland Animals
How a Book is Made
Killer Whales, Seymour Simon
Michelangelo, Venezia
Mary Cassatt, Venezia
A Lion to Guard Us
One Riddle, One Answer
Country Explorers: India
Monsoon
Look What Came from France
Three Sacks of Truth
Seven at One Blow
Marguerite Bourgeoys and the First Canadian Sisters
Free reading:
Cul-de-Sac Kids, series
Puppy Place, series
Rainbow Fairies, series
How to Train Your Dragon, series
Phineas and Ferb, series
Flat Stanley, series
Summer Reading (between 2nd-3rd grade)
Now that TJ is easily reading chapter books, I thought it was time to give her a summer reading list. After browsing a few homeschooling websites and boards and looking at our bookshelves, I pulled out a pile of books. I set a goal of 10 books during the summer – I picked 6 and had TJ pick 4. She, of course, picked out the thinnest books in the pile! 🙂
TJ's reading list:
Meet Kit (American Girl series)
Problems in Plymouth (Imagination Station series)
The Boxcar Children
Owls in the Family
Henry and Ribsy
The Mouse and the Motorcycle
Betsy-Tacy
The Littles
Little House in the Big Woods
The Trumpet of the Swan
The plan is to have a daily reading time of 30 minutes (I'll get my reading in at that time too!) and work through the basket until she's finished all the books.
We also have some audio books planned for the summer – we're working through The Chronicles of Narnia series.  TJ loves this series, so much that she's started a lego construction of Cair Paravel, complete with a playmobil lion – Aslan, of course!
Second Grade Reading List
TJ took her time moving from leveled readers to chapter books. Second grade seemed to be the year of transition for her, when she finally made that jump.  The Rainbow Fairy books by Daisy Meadows is the series that helped her along that path. They are not quality literature by any stretch, but they gave her the confidence to move on to "regular" books. And I'm fairly sure that TJ has read every book in this series (that our library carries, anyway)!
She also read the following books over the course of her second grade year:
Beezus and Ramona
Phineas and Ferb chapter books (her latest obsession!)
Imagination Station from Adventures in Odyssey, series
Magic Tree house, series
Northern Lights
Young Cam Jansen, series
Mercy Watson, series
Ian and the Gigantic Leafy Obstacle
Tornado by Betsy Byars
Five True Horse Stories
The Chalk Box Kid
The Tiara Club, series
Race into Space
The Courage of Sarah Noble
The Seasons of Arnold's Apple Tree
A Grain of Rice
Never Land series, Dave Barry
Meet Kit, American Girl series
Sunshine Makes the Seasons
You Choose Books: Interactive History Adventure, series
Spinning Spiders
Earthquakes
Robin Hood, DK Reader
National Geographic Kids, series
Cul-de-sac Kids, series, Beverly Lewis
Adventures in Ancient Greece
Adventures with the Vikings
Pedro's Journal
Adventures in Ancient China
Bears on Hemlock Mountain
Pocahontas and the Strangers
The Borrowers
Do you have any tips for getting non-bookish children to read? Leave me a comment!