Simple steps for composer study
There are many ways to add some classical music to your homeschooling day. You could combine it with your history studies, follow a chronological timeline, or study a specific musical period. While I like the idea of folding music into history I think it's better left to the middle grade years when students can follow a more logical progression and see the flow of musical history within the role of historical events. For the elementary years I prefer something far more simple.
Each year we choose 6 composers that interest us. We spend 6 weeks learning about and listening to one composer. Then we repeat that sequence for another composer over the following 6 weeks (6 composers, 6 weeks each for a total of 36 weeks). Our goal at this stage is all about exploration and learning and maybe even finding a new favorite composer or two.
Don't you just love it when your kid says, "I love Vivaldi!"?
Composer Study in Action
After you've chosen your 6 composers, pick one and begin!  Here's what we do:
Tack a picture of the composer to the bulletin board
Get some books and CDs from the library
Each week listen to some music (CDs or YouTube) at various times during the week (I like to listen in the morning, while we're working on map skills, or during tea time)
Once or twice a term read a book about the composer (I like to do one read aloud and have my daughter read another book independently)
Add the composer to our timeline and/or lapbook (see the info. about the Composer Activity Pak below)
Fill out one music appreciation or quiet listening page for each composer
These activities are spread out over 6 weeks, making it very manageable to add just a few minutes each week without feeling overwhelmed. Here are some resources that work so perfectly with this simple method:
I love the Composer Activity Pak from Homeschool in the Woods. We put most the lapbook together over one school year (younger students will need more help with this project) but we add the various composers (minibooks, timeline, and music appreciation page) as we study them. So it's become a great resource that we always look at and use because we are always adding to it. Highly recommended! (Here's our review of the Activity Pak.)
I also really like the SQUILT program (here's a recent review). Like most homeschool moms I tweak it to fit our schedule of one composer every 6 weeks. But I love the quiet-listening and really focusing on that piece of music. It's also really nice to have all the links and activities in one place (without having to search for them myself!). And, if you're not sure what composers you should choose, then this program will help – the work is done for you!
Beginning with the Orchestra
If you'd like, you could begin your music study with an overview of the orchestra and instruments. There are many books and resources that would make this an easy way to begin. I like The Story of the Orchestra for the overview and then I just look for different instrumental CDs at the library or online to feature music for the various instruments.
Favorite Music Appreciation Resources
One of the principles of Classical education is the focus on truth, beauty, and goodness.
It's easy to get caught up in the daily work in math, Latin, and grammar (which certainly are good and beautiful in their on way!) and push aside those extra things that bring those higher goals into sharper focus. So I try not to forget the things that brighten our day and look for effortless ways to include them.
Music appreciation is one of those things I try to include – and finding easy ways to incorporate it into our schedule is a must because it's very easy to ignore or simply skip somethings that seems so trivial on the surface. But I encourage you to find ways to include classical music in your homeschool. You might inspire a love for music in yourself or your children that you didn't know you could have.
A Small Collection of Music Appreciation Resources
Reference Books
The Story of the Orchestra – a very fun book that takes you through each section of the orchestra (includes a CD)
Classical Music for Dummies – a great resource for parents that walks you through the basics of music history, the orchestra, and music theory (includes a CD)
Spiritual Lives of the Great Composers – covering 20 composers, each biography includes a black-and-white portrait, a 5-8 page biographical look at the composer with a focus on their religious life, and a short list of works that are recommended for listening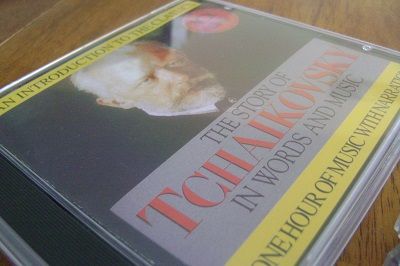 Listening
The following resources are wonderful introductions to Classical music. Some of our favorite CDs include catchy words to remember the author and title of the songs. We also like CDs that include biographical information (like the Vox Music Masters) and some are just plain fun.
Extras or Alternatives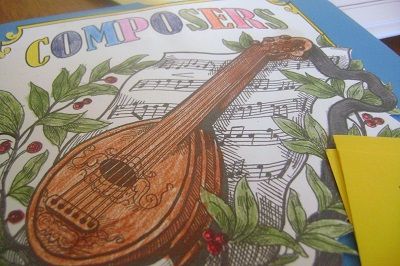 Music Appreciation in Action
We school in 6-week terms so every term we choose a new composer to learn about and listen to. Each week we fit in listening time while we work on projects, mapping or coloring. We hang up a picture of the composer (from the Composers Activity-Pak) and I'll have TJ read a book about the composer if we can find a suitable one from the library. Or I'll find something to read aloud (from searching online or reading from Spiritual Lives of the Great Composers). Each week we'll listen to a little more from our own CD collection, CDs that we get from the library, or music we find online (YouTube is a great resource for this!). During the following weeks we'll also add the composer mini-book and timeline figure to our lapbook and fill out a music appreciation page.
If you prefer something that's more scheduled, I really like the lessons from Harmony Fine Arts. They are divided into Classical cycles which makes it very easy to incorporate into your history cycle. Another great option is SQUILT which stands for Super Quiet Uninterrupted Listening Time.
The perfect companion to music appreciation is art appreciation – another subject that can be difficult to find the time for. But with a few easy methods and materials you can include both in your homeschool day.
Is classical music a part of your homeschool day?