One of the principles of Classical education is the focus on truth, beauty, and goodness.
It's easy to get caught up in the daily work in math, Latin, and grammar (which certainly are good and beautiful in their on way!) and push aside those extra things that bring those higher goals into sharper focus. So I try not to forget the things that brighten our day and look for effortless ways to include them.
Music appreciation is one of those things I try to include – and finding easy ways to incorporate it into our schedule is a must because it's very easy to ignore or simply skip somethings that seems so trivial on the surface. But I encourage you to find ways to include classical music in your homeschool. You might inspire a love for music in yourself or your children that you didn't know you could have.
A Small Collection of Music Appreciation Resources
Reference Books
The Story of the Orchestra – a very fun book that takes you through each section of the orchestra (includes a CD)
Classical Music for Dummies – a great resource for parents that walks you through the basics of music history, the orchestra, and music theory (includes a CD)
Spiritual Lives of the Great Composers – covering 20 composers, each biography includes a black-and-white portrait, a 5-8 page biographical look at the composer with a focus on their religious life, and a short list of works that are recommended for listening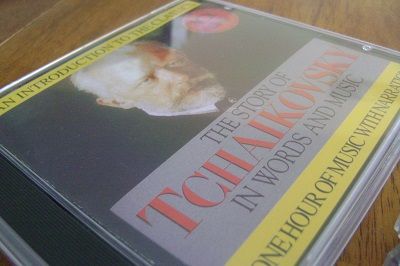 Listening
The following resources are wonderful introductions to Classical music. Some of our favorite CDs include catchy words to remember the author and title of the songs. We also like CDs that include biographical information (like the Vox Music Masters) and some are just plain fun.
Extras or Alternatives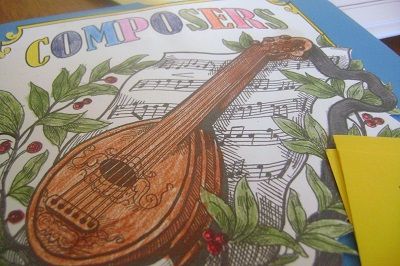 Music Appreciation in Action
We school in 6-week terms so every term we choose a new composer to learn about and listen to. Each week we fit in listening time while we work on projects, mapping or coloring. We hang up a picture of the composer (from the Composers Activity-Pak) and I'll have TJ read a book about the composer if we can find a suitable one from the library. Or I'll find something to read aloud (from searching online or reading from Spiritual Lives of the Great Composers). Each week we'll listen to a little more from our own CD collection, CDs that we get from the library, or music we find online (YouTube is a great resource for this!). During the following weeks we'll also add the composer mini-book and timeline figure to our lapbook and fill out a music appreciation page.
If you prefer something that's more scheduled, I really like the lessons from Harmony Fine Arts. They are divided into Classical cycles which makes it very easy to incorporate into your history cycle. Another great option is SQUILT which stands for Super Quiet Uninterrupted Listening Time.
The perfect companion to music appreciation is art appreciation – another subject that can be difficult to find the time for. But with a few easy methods and materials you can include both in your homeschool day.