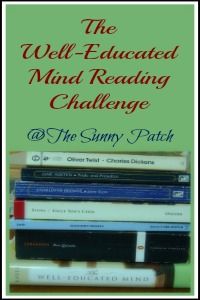 I'm backtracking this month to Gabriel Garcia Marquez's novel One Hundred Years of Solitude. There was quite a long waiting list at the library so I read some of the other books on The Well-Educated Mind list before this one became available.
The story is centered around 5 generations of a family founding and living in a small South American village. Thankfully there was a family tree in the book – many of the characters had the same or similar names and it was sometimes difficult to keep them all straight.
Magical realism plays a large role in this novel, with visits from ghosts and such. It's so intertwined with reality that it almost seems normal. I had a hard time with this novel and a hard time with the logic & rhetoric stage questions because I just didn't see the point of the book.
So, I spent a bit of time reading about Gabriel García Márquez and One Hundred Years of Solitude. Now I can see the point (sort-of). Gabriel García Márquez was representative of an important time in Latin American writing and it makes sense to include him in The Well-Educated Mind, if not for reading pleasure at least for the important time period he represents. From Invitation to the Classics "… he has produced a body of work that views with wonder the tragic drama of the New World family set against the brutal action of Latin American history."
While it certainly wasn't my favorite novel I can understand why it was included in the list. (But I'm very glad to be done with it.)